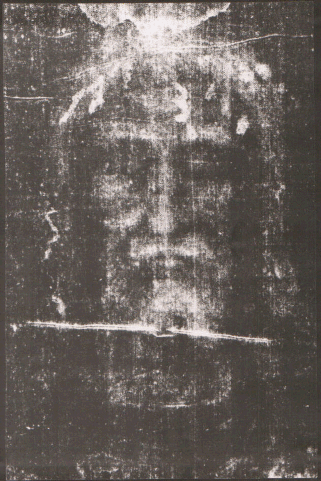 YESHUA:
The Unknown Jesus
May be purchased through the Wisdom Seminars Catalogue.
A scholar-novelist reveals the contemporary context of Jewish Messianic mysticism--Kabbalistic, Prophetic, Wisdom-School,

Merkabah

, and Magical--that informed the life and teachings of the Master Jesus
This is not a popular novel for the many, but a guide for the few
who seek authentic discipleship with Mar Yeshua,
the Master Jesus
"I have written this life of Yeshua to make the insights of a modern Jesus scholar accessible to lay persons in a popular format. There is no way to recover the personal history and biography of Yeshua. But we can recover his historical teachings.
"My hope is that a fictional biography that is true to the spirit and context of his Messianic mysticism might help Christians grow beyond mere dogmatics into the true and historical Gospel of the Master Jesus as I can best reconstruct it."
DR. LEWIS KEIZER, M.Div., Ph.D.
Presiding Bishop
The Home Temple Synod of Independent Apostolic Bishops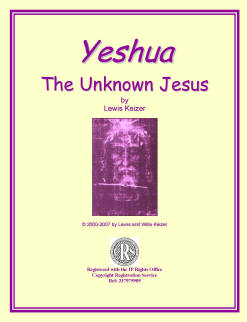 E-BOOK in *.pdf format (418 pages, 190,822 words) may be downloaded or read online for $20. Go to the Wisdom Seminars Catalogue.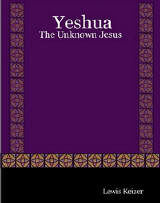 BOUND PAPERBACK NOW AVAILABLE THROUGH LULU.COM FOR $39.51 AT THIS LINK: http://www.lulu.com/content/1152227
CONTENTS
PREFACE
Recovering the Aramaic Language of Yeshua.
Recovering the Context of the Master's Teachings.
The History, Comparison, and Phenomenology of
World Mystic and Initiatic Spirituality
The Purpose of This Novel
Chapter One: MASTER YOSEF
Chapter Two: MIRIAM'S GARDEN
Chapter Three: YAKOB
Chapter Four: BAR-MITZVA
Chapter Five: PILGRIMAGE TO THE TEMPLE
Chapter Six: THE BROTHERHOOD
Chapter Seven: SEPPHORIS
Chapter Eight: THE DEATH OF YOSEF
Chapter Nine: JOURNEY TO BABYLON
Chapter Ten: THE FELLOWSHIP OF DANIEL
Chapter Eleven: THE ORDEALS OF DANIEL
Chapter Twelve: SHOSHANA
Chapter Thirteen: THE CURSE
Chapter Fourteen: THE WANDERER
Chapter Fifteen: THE WAY OF THE BUDDHA
Chapter Sixteen: THE STUPA
Chapter Seventeen: EGYPT AND THE THERAPEUTAI
Chapter Eighteen: THE PROPHET YOCHANAN
Chapter Nineteen: NAZARETH
Chapter Twenty: THE PROPHET YESHUA
Chapter Twenty-One: THE MARTYRDOM OF YOCHANAN
Chapter Twenty-Two: MIRIAM OF MAGDALA
Chapter Twenty-Three: FIRST JOURNEY TO JERUSALEM
Chapter Twenty-Four: THE HIGHER HALAKAH
Chapter Twenty-Five: RETURN TO THE GALILEE
Chapter Twenty-Six: FINAL PESACH IN JERUSALEM
Chapter Twenty-Seven: QIMAH
A PARAPHRASE OF YESHUA'S ETERNAL GOSPEL
AUTHOR'S WILD RANT
GL0SSARY OF TERMS