Rev. Keith Dubbed as Knight of the +OMR+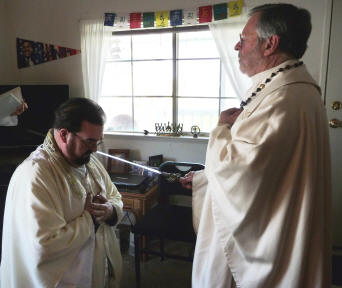 The Rev. Keizer completed First Order Empowerments of the T:.H:.G:. with a successful weather proving and qualification for admission to the Grail Priesthood and the option to advance through Portal to the Second Order Christ-Melchizedek Tantra. In recognition of this, on March 3, 2013, he was dubbed a Knight of the Teaching and Healing Order of St. Michael and Saint Rafael.
This is a European chivalric order established by Prince August of the House of Lanza (now deceased), the last living noble descendant of Emperor Frederick II von Hohenstauffen, given to Bishop George Boyer of London (now deceased), currently under the Abbess Bishop Leila Boyer. Prince August, like Frederick II, was an ardent occultist. He and Boyer were students of Bishop Richard, Duc de Palatine. Bishop Lewis Keizer was made Knight Commander for North America by Abbott George Boyer. The Order was authorized by him to be part of the T:.H:.G:. program. See THG.
INTERESTED IN JAIL OR PRISON CHAPLAINCY?
The Rev. Daniel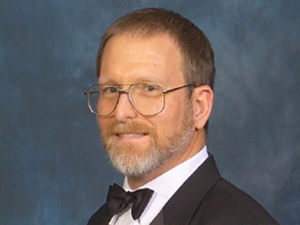 With budget cuts, the field of volunteer prison and jail chaplaincies is opening up. Unfortunately, hard- core fundamentalist denominations are taking over the positions. These chaplaincies, which are supposed to be interfaith and inter-religious, are being turned into evangelistic recruitment opportunities for Christian fundamentalism by default.

Our recent Ordinand Daniel has undertaken a volunteer prison chaplaincy in Santa Clara County. He is willing to advise others interested in this kind of ministry. It is tough, bare-bones stuff with quite rigid rules. However, he has been able to offer the Eucharist, which had not been done before. We have developed a generic Communion Service that can be adapted for this kind of use, based on his comments. If you would like to correspond with Rev. Daniel, send me an email request and I'll put you in touch with him.

In the year 2007 Daniel was Consecrated to the Episcopate.