RESOURCES
MARRIAGE LAWS FROM ALL STATES
Take this link to the Marriage Laws page UNIVERSAL LIFE CHURCH web site">
RESOURCES
MARRIAGE LAWS FROM ALL STATES
Take this link to the Marriage Laws page UNIVERSAL LIFE CHURCH web site, with information on legal requirements for performing and recording marriages in every state.
INTERNET STUDY LINKS FOR HOME TEMPLE SEMINARIANS
Link to FUNDAMENTALISM: ASSAULT ON DEMOCRACY. Written 20 years ago by Dr. Keizer, this book lays bare the political roots, agendas, and strategies of America's religious right to seize power and force their apocalyptic theologies and false values upon all citizens. All Home Temple seminarians are encouraged to read this book, as it addresses issues they must now face in their ministries.
This page contains links to internet sites that contain reliable information for topics of the Home Temple Diaconate and Priesthood Studies. We will continue to expand and update this page. Seminarians are encouraged to register for seminars on appropriate subjects at www.wisdomseminars.org (Dr. Keizer's multimedia teaching site)
Bishop Lewis: EMAIL
DIACONATE STUDY GUIDE FOR THE AUTHENTIC JESUS
Written by a Diaconate study group. Has typos, etc., but useful for diaconate students.
DOWNLOAD HERE.
THE PRE-CHRISTIAN TEACHINGS OF YESHUA
Comprehensive collection of the extant authentic teachings of Yeshua organized as a Lectionary for weekly readings, sermons, and advanced study guidance. Post-ordination level Jesus Studies.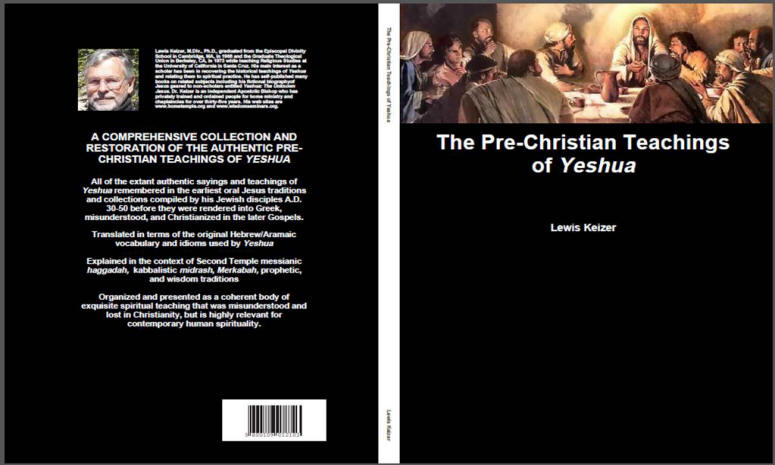 BISHOP KEIZER'S YOUTUBE PATREON SERIES: THE PRE-CHRISTIAN TEACHINGS OF YESHUA. More Post-Ordination level Jesus Studies. A two-year pledge of $5 per bi-monthly video substitutes for the Diaconate module tuition and saves money. Go to https://www.patreon.com/lewiskeizer once you are accepted into Diaconate studies and sign up as a Patreon patron.
Specific Internet Research Links Jewish and Christian Studies:
http://ccat.sas.upenn.edu/~jtreat/rs/resources.html
Compendium of Links for Biblical Studies:
http://web.infoave.net/~jwest/
Shroud Studies:
The Jesus Seminar:
http://virtualreligion.net/forum/
Christian Scripture and Classic Texts Online:
Early Christian Scripture and Literature:
http://www.iclnet.org/pub/resources/christian-history.html
Gospel of Thomas and Gnostic Links:
http://home.epix.net/~miser17/Thomas.html
Biblical Studies; Textual Criticism:
http://rosetta.atla-certr.org/TC/TC.html
Biblical Studies; The Problem of the Synoptic Gospels:
http://religion.rutgers.edu/nt/primer/
Independent Apostolic Church Movement Including Non-Institutional "Catholic"
History of the Independent Movement
http://www.concentric.net/~Cosmas/indcath.htm
Independent Catholic Movement
http://www.concentric.net/~Cosmas/indcathjuris.htm